10.1. Social Networks¶
The study of the properties of social networks has been an active area of research in sociology, anthropology, and social psychology for many decades, as seen in some of the influential papers cited below, [MILGRAM1967], [GRANOVETTER1973] , [ZACHARY1977], and [FREEMAN1979], and documented extensively in [WASSERMAN1994] and [NEWMAN2003A] . But due to some seminal work in the 90s, coupled with the explosion of the world wide web and the fresh interest generated by social media, the field has entered a new phase of rapid growth. It has also become clear that understanding social networks involves understanding network properties of relevance in a large number of disciplines. One of the welcome consequences is that there are large amounts of freely available data.
10.1.1. Why study networks?¶
The study of social networks is part of the larger discipline of the study of systems, large entities with many interacting parts that can function cooperatively (note the word can) to get things done that none of the parts could get done alone. Systems include
The human body

Language (both computer and human)

Organizations such as the USSR, a boy scout troop, and an automobile company.

The network of power lines across the U.S. and Canada

The internet

Political blogs on the Internet

The protein interactions in a living cell

A food web

Communities of people
But what about the network part? Why study systems as networks? Systems that have parts that enter into recurring relations may be pictured as networks. The system of the human body has a subsystem called the central nervous system that has parts called neurons connected to other neurons in complex patterns; the way in which one neuron is linked to another, however, is relatively uniform. Internet sites are linked to other internet sites by hyperlinks; companies have hierarchical structure in which the relation "is a superior of" recurs over and over; power plants, power substation, and transformers are linked together by high voltage transmission lines; various functional units and organs of the human body are linked together by various kinds of pathways (circulatory, neural, and lymphatic). Species are linked to each other by food dependencies ecologists call a food web. The proteins in a living cell are linked to each other through a network of interactions.
We may think of the parts as nodes and the paths between them as links (or edges). This view of a system's functioning is the network view. Sometimes studying network properties of a system, particularly a complex system that passes through stages of growth, stability, and instability, can reveal important things about how it works. Certain nodes may be strategically placed so as to be vital to normal function of the system. Certain substructures may be recurring. Explaining some things about the network requires knowing details about particular connections (local facts); for example, in a food web, to explain a population decline of some species in a food web, we might want to look at the predators of that species. However, explaining functional properties of the network may also require reference to global properties (examples below).
Often our question about networks involve local relationships, but the answers lie somewhere in between the global and the very local. For example, Yodzis (1998) compiled the results of a number of experiments in which biologists removed a predator from sequestered portions of ecosystems. It certainly appears that the local effects would be quite predictable: the size of the prey populations would increase. But in fact, what Yodzis found was that the effects were unpredictable. Some prey populations went up; some went down. One of the complicating factors is that a predator of species A might also be a predator of some other predator of species A; another is that some of the prey species may be competitors for food further down the food chain. Thus an increase in the population of prey Species A may entail a decrease in the population of prey species B. It follows that policies like killing seals in an attempt to bring back the cod population (actually attempted in Canada in the late 1990s) may actually harm the species they are intended to benefit. The Figure below shows David Levigne's North Atlantic food web and gives a sense of how staggeringly complicated food webs are. Decreasing the number of seals would affect at least 150 other species. For example, killing seals may have raised the populations of halibut and sculpin, which also eat cod. The moral of the story: Understanding the local effects of a small change in highly interconnected networks often involves looking at nonlocal effects.
There are really two very different kinds of goals involved in studying networks, but they lead us to very similar structural properties of the networks. One is to find and exploit structures that work efficiently for transmission of effects through the network. This would be the goal of a marketing analyst trying to find the best strategy for spreading her message. Another is to understand an existing structure to see what weaknesses and efficiencies it may have. For example, the epidemiological study of a community of people is concerned with what properties it has that promote "efficient" transmission of a disease. Needless to say, what is "bad" or "good" depends entirely on the purposes at hand. What may be a bad feature from the epidemiolgist's or ecologist's perspective may be a good feature for the marketing analyst's needs. (For a demonstration of some basic ideas motivating epidemiologists, see Vax: a game about epidemic prevention.) As we will see, the small world property that seems to be a necessary feature for social networks entails both kinds of efficiencies.
10.1.2. What are networks?¶
As the examples above suggest, the study of networks plays a role in a number of disciplines, and different disciplines have developed different terminologies for the same key ideas. The following table summarizes some of the most important correspondences.

We will use the computer science term nodes and edges. Thus a graph (or a network) is a set of elements called nodes related in some regular way called links, which we can picture in something like the following way.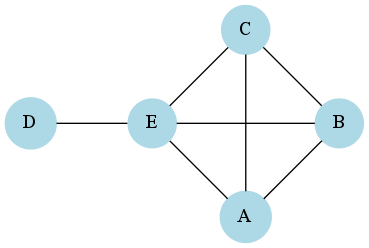 Here, A, B, C, D, and E are nodes, and the lines between them are edges. We define a path in a network to be a sequence of nodes connected by edges, and we will say the above graph is connected, because there is a path between any pair of nodes.
For example, here are the four paths connecting A and D:
D E A

D E B A

D E C A

D E C B A
Path 4 includes all the nodes in the graph and shows that graph is connected. The length of a path is the number of edges it traverses; the shortest path above, D E A, has length 2. A number of important structural properties of graphs require computing shortest paths or the lengths of shortest paths.
There are many other sorts of information one might want to add to graphs to keep track of properties of the entities the nodes are modeling or of their relationships. One of the most important ideas that the links between the nodes may have strengths or weights that represent some real world fact about how the entities are related. For example, the network below is constructed from some famous data about U.S. cities collected by Donald Knuth. [KNUTH1993]
In this diagram of the Knuth data taken from the networkx site, the nodes are major cities, and the links between cities are "weighted" by the distances between them. Links are shown only for cities close to one another (distances of more than 300 miles are ignored). Rather than labeling the link "weights" with numbers, the weights are represented by how far apart the nodes on the graph are placed. The graph clearly represents the clustering of U.S. cities in the along coastlines, particularly in the northeast.
In other graphs, link weight might represent a variety of properties. For example, in the Enron email network discussed in Section Visualizing Social Networks, nodes are company employees and a link between nodes represent the fact that at least 5 emails have been exchanged between these two employees. A weight on the link might represent the volume of that email.
A key property of a node is how many neighbors it has. This is called its degree. In the example above, we see the following degrees:
| Node | Degree |
| --- | --- |
| A | 3 |
| B | 3 |
| C | 3 |
| D | 1 |
| E | 4 |
The degree distribution of a graph is a histogram specifying for each possible degree how many nodes have that degree. The highest degree in the above graph is 4. 1 node has degree 4, 3 nodes have degree 3, no nodes have degree 2, and 1 node has degree 1. The degree distribution looks like this.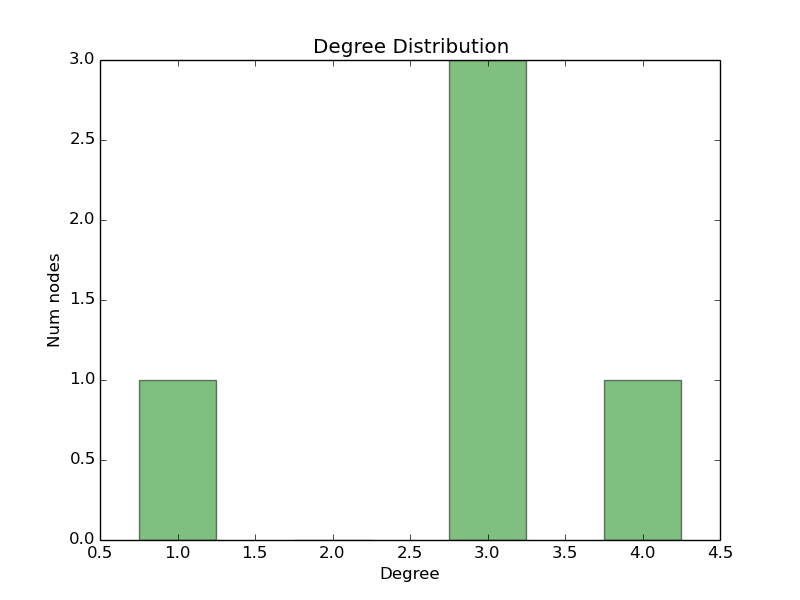 The reason to care about degree distributions is that we can compare them with known statistical distributions to learn things about the structural properties of the graphs. It's one of a number of global properties of the graph that says something about how its functioning can be orderly.
We turn next to one of the key tools in studying the emergence of order in a complex system: Studying random systems. In particular, we'll look at random graphs.
10.1.3. Random graphs¶
In a series of 8 ground-breaking papers published in 1959-1968, Paul Erdos and Alfred Renyi (E&R) investigated the properties of random graphs and laid the foundations of new area of graph theory. See for example [ERDOS1959] .
Our chief interest in discussing some of the properties of random graphs here is to compare those properties with those of social networks. Comparing orderly systems to random systems gives us some insight into what properties are key to the emergence of order.
The picture above (from [WILENSKY1999] ) shows the generation of a random graph by the following procedure, essentially due to E&R.
Choose a probability p for edge creation. The value of p will determine how densely connected the graph is.

Start with a set of nodes (shown evenly distributed around the circle in the first picture, although the layout is not important) but with no connections between them.

Pick two nodes at random and add an edge between them with probability p.
In the pictures above the graphs were redrawn after each new link was added, using a force-spring layout algorithm, which pulls linked nodes toward the center. In picture 2, small chain-like components have formed. As time goes on, components begin to merge, because an edge happens to be drawn between two of their nodes, leading to picture 3. In the last picture, picture 4, nearly all the nodes have been merged into one giant component. (The Netlogo model is here ). [WILENSKY1999]
Since every link added increases the degree of two nodes, the average degree of a node rises faster than the number of links. A somewhat surprising result derived by E&R is that after the average degree of a node exceeds one, the growth of the giant component must accelerate very rapidly, leading in very few steps to the creation of a single giant component. This sudden global transformation at very precise parameter value is called a phase transition and the value of the parameter (average degree) is called a critical point. Phase transitions are studied by physicists concerned with phenomena like the transition of a material from a liquid to a solid state at its freezing point, or the transition from a ferromagnetic state to a paramagnetic state in a heated magnet, or superconductivity emerging in certain materials at very low temperatures. So random graphs play a key role in the mathematics of critical phenomena, which is called percolation theory. The critical point for the emergence of a giant component can be obsserved in the above simulation.
This corresponds in its statistical properties to what physicists call a phase transition (what happens at a certain temperature when water goes from liquid to ice or when a magnetized piece of iron regains its magnetism). This is one example of the strong conceptual connections between the study of large networks and statistical physics. [NEWMAN2004] cites a number of other examples.
A less surprising result that ER derived has to do with the degree distribution of a random graph. The degree distribution of a random graph is a normal distribution, rather, the discrete counterpart of a bell curve, a binomial distribution.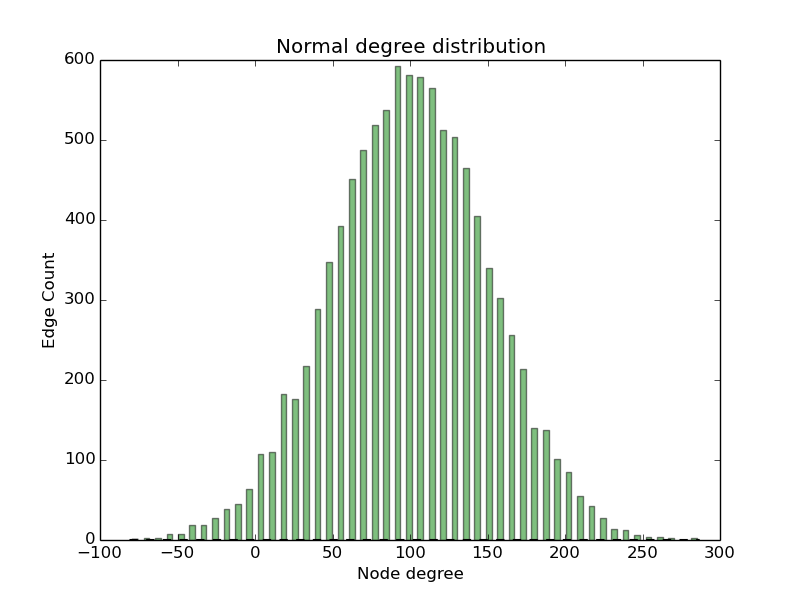 Here we see a normal degree distribution for a large random graph with 10000 nodes (not shown). The average degree of a node is 100 (so it's fairly densely connected), and as you can see, the frequencies peak at the average, and most nodes have edge counts right around that average. This is characteristic of normal distributions, a crucial feature of that famous bell-shape.
But the degree distributions of many real world networks (such as the internet, many social networks, and the power grid) look more like this.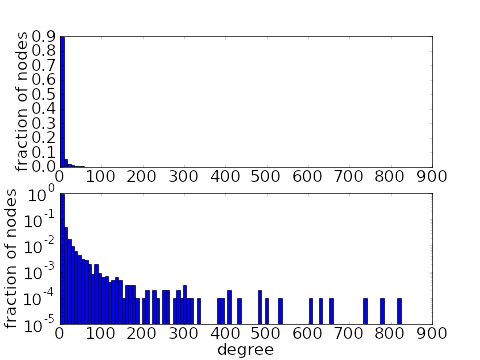 This tells us that real world networks are not generated by the kind of process that generates a random graph.
Another, perhaps unsurprising, result is that the average path length in random graphs is quite low, typically the log of the numbers of nodes. That means that average path length grows much more slowly than the number of nodes. This property is shared with social networks, as we shall see, and is crucial in characterizing so-called small world networks.
10.1.4. Looking ahead¶
With this very brief sketch in place, we will try to proceed by example, trying to illustrate a few of the important research questions in social network study and how software tools might play a role.
10.1.5. Community discovery: Political blogs¶
[ADAMIC2005] collected data from nearly 1500 political blogs during the 2004 election, evenly balanced between conservative and liberal. From this they constructed a network. They describe their procedure as follows:
We constructed a citation network by identifying whether a URL present on the page of one blog references another political blog. We called a link found anywhere on a blog's page, a "page link" to distinguish it from a "post citation", a link to another blog that occurs strictly within a post.
An image of the network they found is shown below: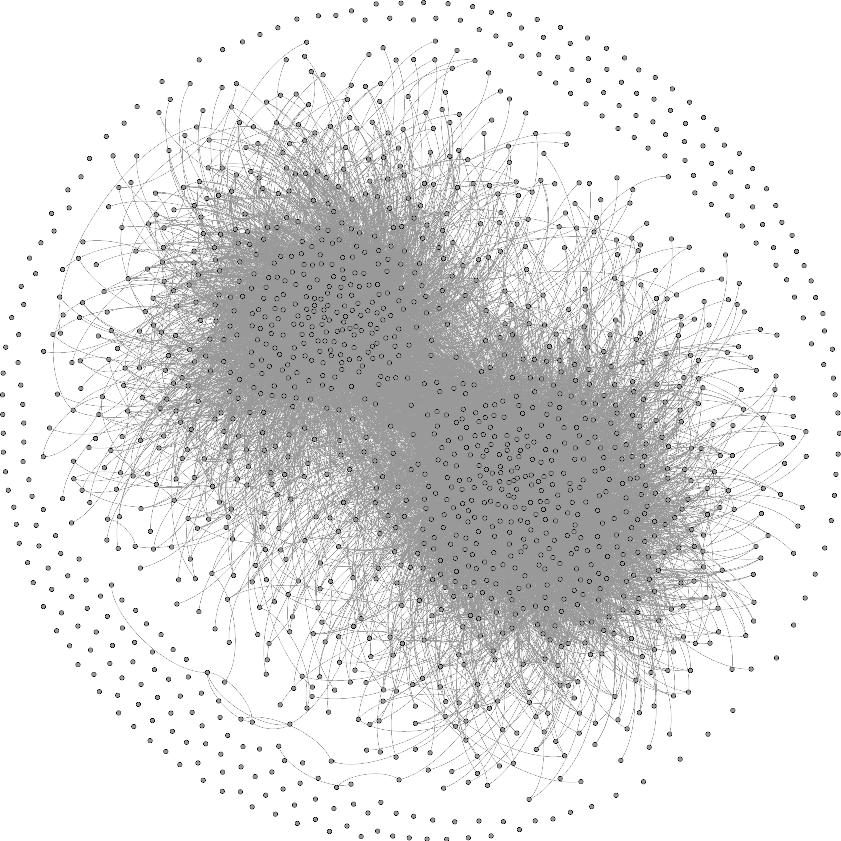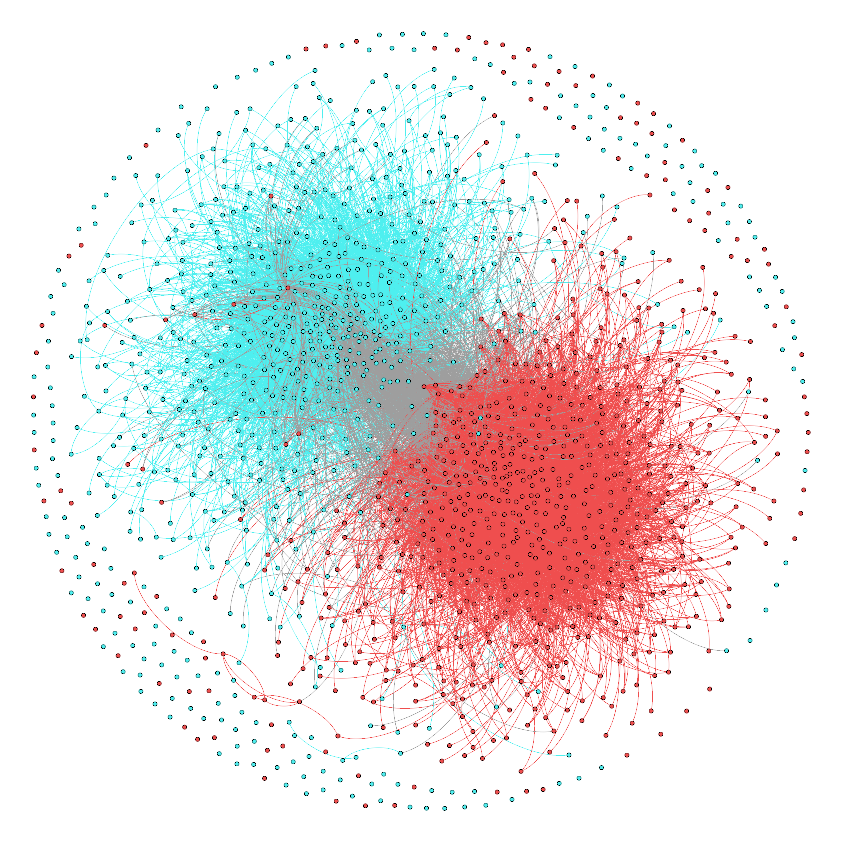 We start with a black and white image, laid out in a way that tries to separate unconnected sites as much as possible, resulting in two great masses connected by a bridge way of links. The key point about the two masses is that the graph layout algorithm uses no information about the liberal or conservative bias of the blogs. That is, the two communities apparent in the uncolored diagram were discovered by the layout algorithm because of the structure of their mutual links. When we add the coloring in the second figure, we see that the two communities correspond very closely to the liberal and conservative blog communities. The layout algorithm used is the Fruchterman-Reingold algorithm, which is one of a family of spring-directed algorithms. The idea of such algorithms is to assume two competing forces, a repulsive force driving all nodes apart and an attractive force keeping the nodes linked by edges together. You can think of the edges as strong springs. Such algorithms are good at discovering symmetries. For example, there is a famous graph called the K-graph, which has 5 nodes, each symmetrically to linked to the other 4. The figure below shows the K-graph as computed by the default hierachical layout program in the popular graphviz package, and as computed by Fruchterman-Reingold:
As can be seen, the hierachical layout algorithm does not succeed in finding a way of both minimizing crossing lines and keeping all the lines straight. Meanwhile, the force-directed algorithm moves nodes until the intrinsic symmetry of the links brings the forces into equilibrium, at which point the nodes lock into place. Another way to get an intuition for how a force layout algorithm works is to see how it affects a graph as it grows. Try out Ben Guo's **Force Editor**. Experiment with adding nodes, and especially with adding links between existing nodes, and watch how the algorithm keeps finding symmetries as new relationships are defined.
In the case of the blogs image, what holds the two community masses together is a web of citation links; as Adamic and Glance tell us
… 91% of the links originating within either the conservative or liberal communities stay within that community.
This result replicates that of other community studies of liberal and conservative voices on the web, such as that of [SUSSTEIN2001], which found that only 15% of liberal and conservative websites linked to sites with opposing views; indeed, it replicates all our experience of the politically polarized society we live in, as represented in each day's headlines. Political pundits live in an echo chamber; their world is structured so that they will hear only from those saying the same things they are saying. Political discourse may be the extreme case, but a number of studies have suggested that this echo chamber effect reflects a general property of communities.
The images above were made from the original dataset, which is available on Mark Newman's data page. using Gephi [BASTIAN2009], gephi.org, which is an important graph visualization tool. For more information about gephi and the specifics of how this diagram was created, see Section Gephi.
Significantly, gephi is a Java program. Computing layouts for large graphs (this one has 1500 nodes) is a computationally intensive task. Although layout algorithms often have termination conditions (Fruchterman-Reingold has a concept of an equilibrium state), as a practical matter they are often not run to termination, but until the information desired becomes apparent. Thus, one needs to observe the evolution of the graph and stop it at the appropriate point. Moreover one may have to tweak a number of parameters and try a number of different runs, each for thousands of steps. In these circumstances, efficient computation of the step positions and efficient display of the result is crucial, and Python may not be the right tool for the task. The python network module we will introduce below, networkx, provides an implementation of Fruchterman-Reingold, and display facilities through matplotlib, but the results are slow and not always pleasing to look at.
The use of Gephi to produce the above picture is a very clear case of the appropriateness principle articulated in Section Why Python? . Never use Python for the things it can't do.
The [ADAMIC2005] paper presents some specific evidence bearing on a very general problem. What are the properties of a community? Are there properties of network structure that can help us find and define communities? In particular, can we define community purely through the pattern of connections among the members? The blog study suggests the answer is yes, but the blog example is both too easy and too hard, It is too easy because these blog posts are unusually focused on a single shared interest, politics; many sites and many social relationships combine multiple interests (sports, politics, religion, school ties). It is too hard because the network is too large to look at very closely. In the next section we look at an example with a small group, and find that community structure can still manifest itself through strong interconnectedness.
10.1.6. Centrality and graph-partitioning: Zachary's karate club¶
In 1977, anthropologist Wayne Zachary published his study of a small karate club [ZACHARY1977]. He represented the findings of his ethnographic study as a graph, defined as follows:
A line is drawn between two points when the two individuals being represented consistently interacted in contexts outside those of karate classes, workouts, and club meetings.
The diagrams below show two views of the network he constructed, one using an algorithm that simply positions the nodes on a circle, the other using Fruchterman-Reingold (FR), are shown below.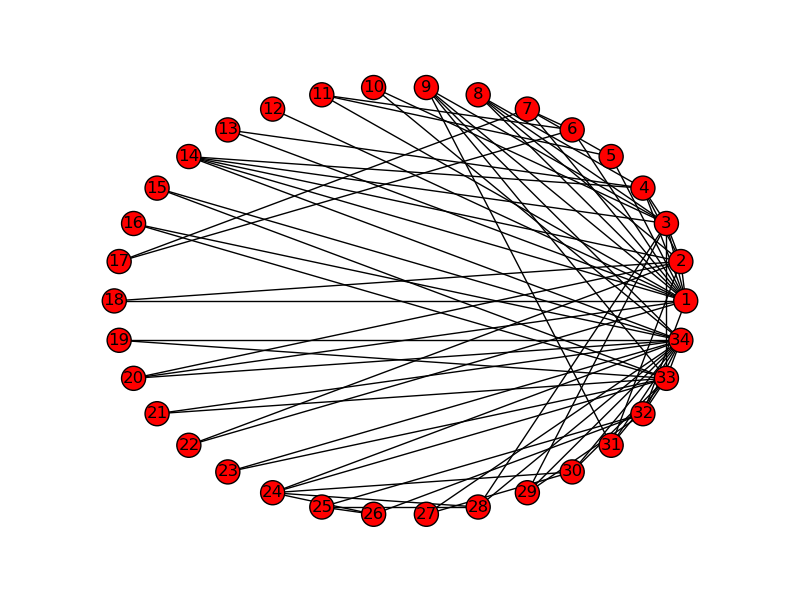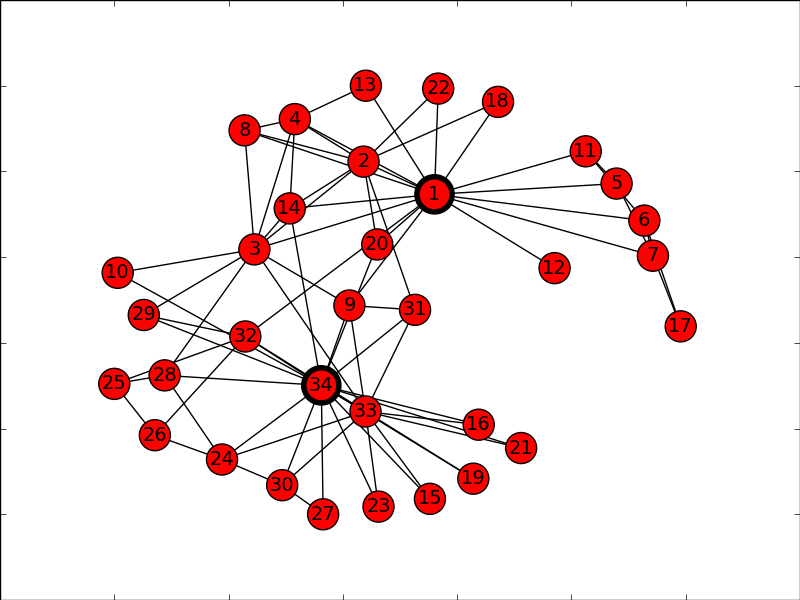 Again, choosing the appropriate layout for a graph proves to be revealing. What the figure laid out by FR shows is that there are two key nodes, node 1 (actually the karate club instructor) and node 34, (actually the club president), which are central to different groups within the club. The next figure uses the same layout and colors the two groups differently, based on Zachary's data. As can be seen, the two subgroups Zachary found (which he called factions) correspond closely to the grouping the force-spring algorithm finds, based on the interconnectedness of the nodes.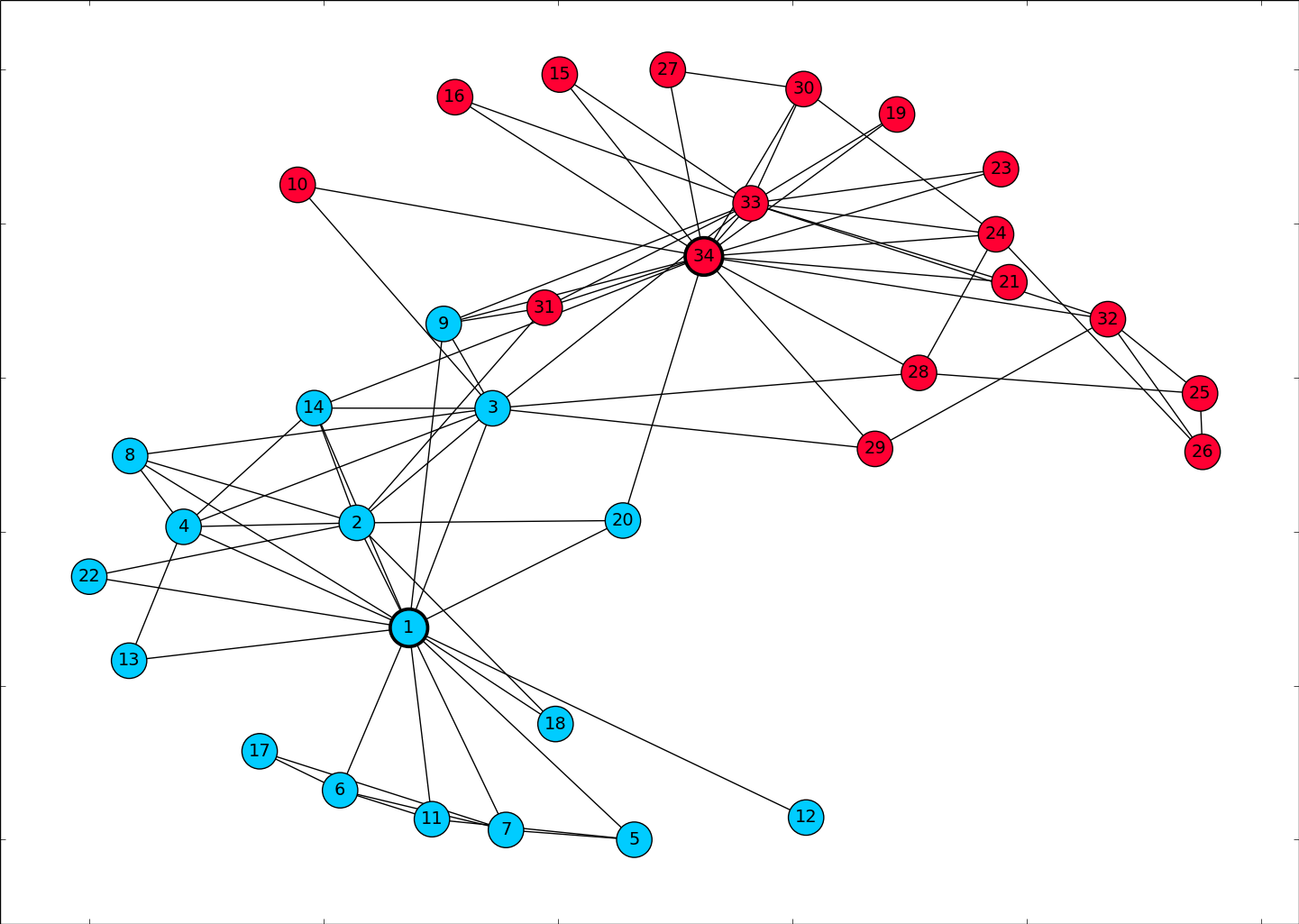 During the course of study, after a dispute between the club president and the instructor, the club split along the lines of the two factions shown above. We would like to see whether it is possible to define the two factions purely on the basis of structural properties of the graph. The FR layout is one kind of evidence that it is, but the two groups we find in the layout are still largely matters of visual intuition. Note that it is not clear how to derive two-colored graph from the one-colored graph, because it is not clear exactly where the boundaries of each group should be drawn, in part because there are numerous inter-group connections.
10.1.7. Centrality¶
In this instance, one analytical concept that is clearly important is graph centrality: Geometrically (or topologically, as graph people sometimes say), this is the property a node has when it is easily reached from all the other nodes in the graph. Of course, graph centrality is not necessarily represented by what is placed at the center of an image of the graph, since different layout algorithms will place different nodes (or no nodes at all) near the center. Thus graph centrality first needs to be defined analytically, by making precise exactly what relation that a node bears to other nodes makes it central. And it turns out when this is attempted that there are numerous different formal ways of defining centrality. Two important concepts of centrality are
Degree centrality; and

Betweenness centrality.
We will provide some formulas and pointers for these concepts in the appendix of this section; here we discuss the intuitions. The idea of degree centrality is the simplest. The degree centrality of a node is just its degree, that is, the number of neighbors it has. The more connected to other nodes a node is, the higher its degree centrality. Thus, for example, in the karate club graph, nodes 9 and 24 have degree centrality 5. Degree centrality is clearly significant, but as can be seen from the example, high degree centrality does not correspond very well with cropping up often on paths between other nodes in the network. This is better captured by betweenness centrality [FREEMAN1979]. Betweenness centrality has to do with how often a node crops up when taking a best path (there may be more than one) between two other nodes. The betweenness centrality of node n is defined as the proportion of best paths between any other pairs of nodes which pass through n. By definition the betweenness centrality of n depends on the connection properties of every pair of nodes in the graph, except pairs with n, whereas degree centrality depends only on n's neighbors. A very closely related notion is the notion of betweenness for edges. Given the set of shortest paths between all node pairs, the edge centrality of e is simply the proportion of those which pass through e. To get a better feel for the intuition, it often helps to think of a network as having traffic: Travelers start out from each node with their destinations evenly divided among the other nodes, always choosing best paths for their journeys. In this situation, the node with the highest betweenness will have the most traffic.
Interestingly, in the case of the karate club, degree centrality and betweennness centrality give similar results: Nodes 1 and 34 are the top-ranking nodes by both measures, in accord with our intuitions of their centrality.
When you think carefully about the case of social networks, the problem of centrality becomes much more interesting and much more difficult. What do we mean when we speak of social centrality? What do we have in mind when we speak of it as a social network concept? One thing that comes to mind is social status or importance (as in Very Important Person), but it is not at all clear that social status can always be deduced from the kind of social networks we have been looking at, or that it directly maps onto what we think of as centrality. The two most central nodes in Zachary's karate network probably do have high social status, but that's not what makes them interesting. What makes them interesting is that they perform some sort of key role in maintaining social cohesion. So network centrality is a kind of role a node has in the graph, deduceable from the link relations, and its exact meaning will depend on the exact definitions of the links. In many social networks, a link between two nodes just means "know each other". In Zachary's graph, the kind of relation pictured by a link is "a friendship", which is a social tie closer than acquaintance (since all the club members are acquainted); and it's that fact about Zachary's graph that gives centrality the particular meaning it has ("being at the center of a network of friends").
The following graph is a famous graph of the relationships by marriage of 15th century Florentine Families.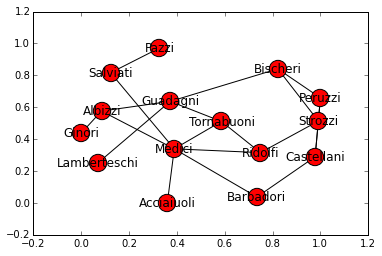 Here betweenness centrality does a pretty decent job capturing our historical (and visual!) intuitions.
| Family | BC |
| --- | --- |
| Medici | .522 |
| Guadagni | .255 |
| Strozzi | .103 |
So the relationship of relation by marriage does capture something socially significant about family relations, directly enough so that betweenness centrality correctly captures a notion of social centrality.
But what these examples also suggest is that there may not be one definition of centrality suitable for all social networks. The exact definition will depend not just on the network but also on our social science goals. [NEWMAN2003] considers the example of a sexual contact network, where the primary goal is to make predictions about the probable transmission paths of sexually transmitted diseases. The relevance of the concept of betweenness is clear, but Newman argues that betweenness centrality (B.C.) as defined above is not the right kind of centrality. To find all the nodes of importance in the network, we don't want a computation that just considers shortest paths. A virus traveling through such a network will not necessarily take the shortest path; it will essentially take a random walk. Thus, what we want for our betweenness measure of a node

is to compute what proportion of random walks starting and ending at all possible node pairs pass through

. Newman defines such a concept of random-walk betweenness and then shows that although it has a high correlation with B.C., it can value nodes left out by B.C. because they lie on few shortest paths. (See the figure below, from [NEWMAN2003], which has arrows pointing to several such nodes for a sexual contact network).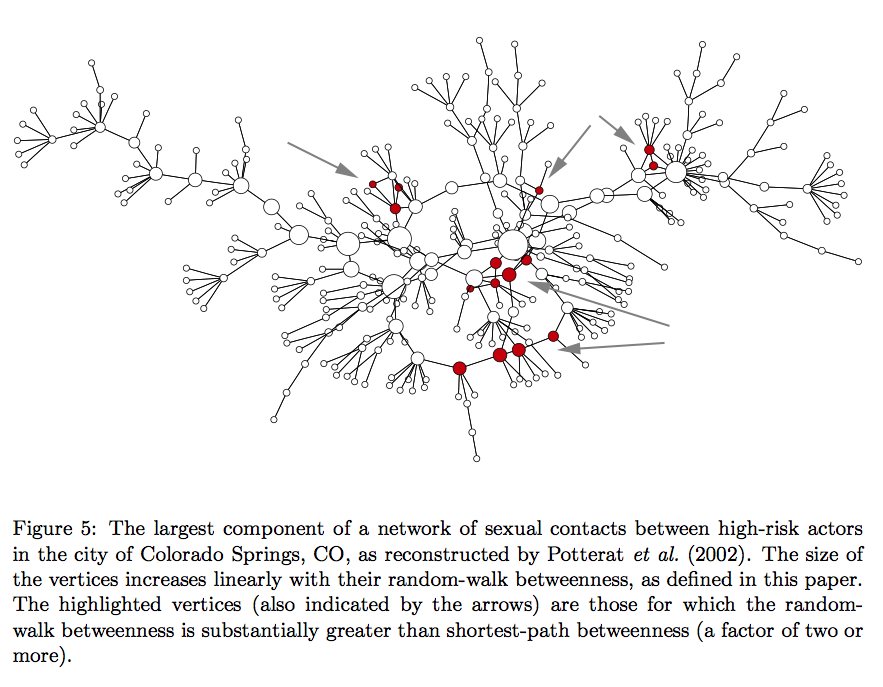 10.1.8. Graph-partition algorithms¶
Centrality measures can tell us what nodes might be at the centers of communities, but they don't directly tell us what those communities are. What we need beyond that is an analytical method for splitting a network into communities (a divisive algorithm) — or conversely, a method for collecting individual nodes into larger and larger communities (an agglomerative algorithm).
There are actually many graph-partition (or community discovery) currently in the literature, many available in Python implementations. The most complete collection of such algorithms is in igraph, a competitor of networkx originally developed in R and ported to Python. One of the most popular algorithms is the so-called Louvain algorithm [BLONDEL2008], which seeks a partition of the graph that maximizes a quantity called modularity. Louvain exists in igraph under the name community. There is also a Python version for networkx available in the module python-louvain.
Here, we will sketch another algorithm as an example, choosing an elegant divisive algorithm known as the Girvan-Newman algorithm [GIRVANNEWMAN2003], because it is conceptually one of the simplst community discovery algorithms. It depends on computing edge-betweenness values. Begin by considering the graph below.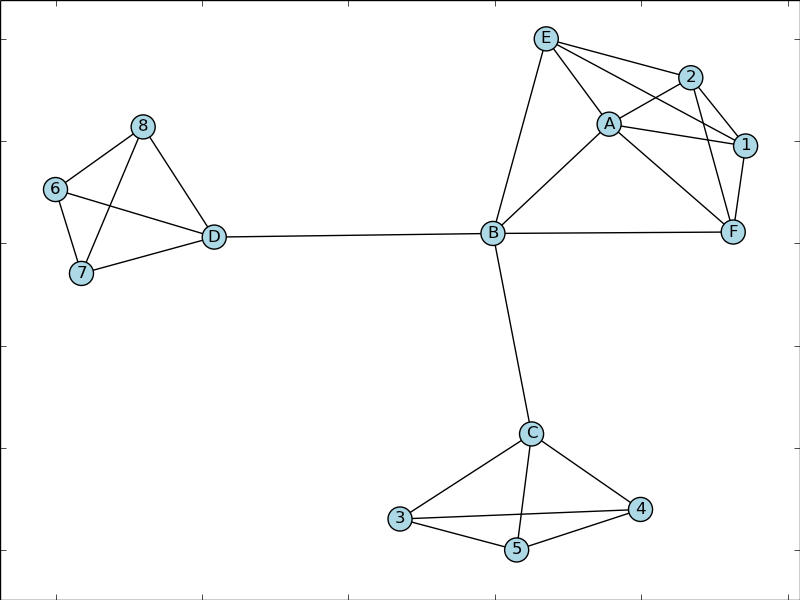 Note that removing the links from B to C and D splits the network into its 3 tightly knit subcommunities. Thus, one approach to community discovery is to remove the community-spanning edges until the graph splits into unconnected components. Those components will by definition be communities. In this case, removing (B, C) gives us 2 components, and then removing (B, D) gives us three.
But how do we find "community-spanning edges" (more commonly called local bridges)? It turns out that the concept of edge-betweenness, introduced above in discussing centrality, does a very good job finding local bridges. Edge betweenness is a measure of what proportion of all shortest paths an edge lies on. In the graph above, the node labeled D only lies on the shortest paths of edges in its own community (7 and 8). B on the other hand, lies on the shortest paths between all the edges in D's community (6,7,8, and D) and all the edges in A's community (A,1,2,E,F), adding up to 20 pairs. Thus the edge (B,D), which connects B to the D community, will have high betweenness. But B also lies on all the shortest paths between the D-community and the C-community, so (B,D) gets still more betweeness points in virtue of falling on the shortest paths between all the D-community edges and all the C-community edges (another 16 shortest paths). For similar reasons the (B,C) edge will be high scoring, because it lies on the best paths between the D-community and the C-community, and between the C-community and the A community.
The following sketch of the Girvan-Newman method is a very slightly modified version of the sketch given in [EASLEY2013] (p. 76). The method relies on the idea that edges of high edge-betweenness tend to be community-spanning.
Find the edge of highest betweenness — or multiple edges of highest betweenness, if there is a tie — and remove these edges from the graph. This may cause the graph to separate into multiple components. If so, these are the largest communities in the partitioning of the graph.
With these crucial edges missing, the betweenness levels of all edges may have changed, so recalculate all betweennesses, and again remove the edge or edges of highest betweenness. This may break some of the existing components into smaller components; if so, these are communities nested within the larger communities found thus far.

Proceed in this way as long as edges remain in graph, in each step recalculating all betweennesses and removing the edge or edges of highest betweenness.
This very elegant algorithm thus finds the very largest communities first, and then successively smaller communities nested within those. As simple as it is to describe in words, it is quite computationally costly because each step requires finding the best path between all pairs of remaining nodes.
Returning to the example of the Karate club, the first edge removed is the (1, 32) edge. Recall that our two highest betweenness nodes were 1 and 34. Not surprisingly, (1,32) lies on the shortest path between them. However, removing the (1,32) edge does not divide this densely connected graph in 2. We continue removing edges as in step 2 until the graph is broken into two components and we have:
c1 = [32, 33, 34, 3, 9, 10, 15, 16, 19, 21, 23, 24,
     25, 26, 27, 28, 29, 30, 31],

c2 = [1, 2, 4, 5, 6, 7, 8, 11, 12, 13, 14, 17, 18, 20, 22]

This corresponds very closely to Zachary's data-driven split, but not exactly. Edges 3 and 9, the boundary edges that seem to participate in the most connections between both groups have been placed in the group centered round 34 instead of the group centered round 1. For a discussion of a Python implementation of this algorithm, as well as the analytical network measures discussed in this section, as well as some additional measures see Section Introduction to Networkx.
10.1.9. Weak ties¶
The notion of local bridge, or community-spanning edge, or high betweenness edge, corresponds very closely to an important concept in sociology known as a weak tie, introduced in a much-cited 1973 paper by Mark Granovetter entitled "The strength of weak ties" [GRANOVETTER1973] . Setting out to study how people got jobs in the (then) working class community of Newton, Massachusetts, Granovetter asked each of the workers in his sample "How did you get your current job? Was it through a friend?" The recurring answer was "No, it was an acquaintance."
Granovetter's explanation appealed to a property of social networks:
The overall social structural picture suggested by this argument can be seen by considering the situation of some arbitrarily selected individual-call him Ego. Ego will have a collection of close friends, most of whom are in touch with one another – a densely knit clump of social structure. Moreover, Ego will have a collection of acquaintances, few of which know each other. Each of these acquaintances, however, is likely to have close friends in his own right and therefore to be enmeshed in a closely knit clump of social structure, but one different from Ego's. [GRANOVETTER1983] .
The point is that members of Ego's own densely knit group are less likely to know something Ego doesn't know, or to have contacts Ego doesn't already have. When it comes to job hunting, new information and new contacts are key. On the other hand, weak ties by definition are connected to other tightly knit groups with new information and new contacts, and some of those weak ties are what Granovetter calls bridging weak ties, which lead from one community to another, creating an even greater possibility of novelty. So in the context of a job search, weak ties will be of much greater importance. More generally, weak ties will take on greater importance in any context where a change of social status or social practice is at issue:
Getting a job

Starting a new business

Finding a mate

Learning new information

Spreading a social innovation, such as a new kind of technology, or a political movement.
The converse of this observation is that the absence of weak ties can be devastating, leading to community isolation and poor access to resources.
Along with the idea of the stength of weak ties goes a particular picture what social networks look like. They look, roughly, like the graph above, islands of tightly knit groups connected by local bridges. This conception provides a concrete social context for the later concept of a small world.