4.4. Loops¶
Albert Einstein is supposed to have once said: "The definition of insanity is doing the same thing over and over again and expecting different results".
But a very important kind of computation works like this: To compute x, do the same thing many times, each time expecting a slightly different result. The last time, the result is x. This important – in fact, indispensable – kind of computation is called looping. More formally, since it involves executing the same statements over and over again, it's called iteration or just iterating. [1] Thus, if Einstein has the definition right (and who's going to argue with Albert Einstein?), then computation is the height of insanity. (well, at least looping is, and looping is an indispensable part of computing many things)
Now how does this work, if it does? The answer is that in looping what we do has the effect of changing the computational context. As a result, each time, the same action has a different result,
An example: Consider adding together a sum of numbers. Let's call the first step Step 0. Here's Step 0:
After Step 0, each step in the computation will look like this:
The key idea is that each time we do this we change the value of x and L; each time we add a number to x , the value of x changes. Ultimately, the value of x will be the sum we want to compute. We could write this as follows:
repeat:
   x = x + L[0]
   L = L[1:]

Where the idea is: just keep doing this over and over. As a result, we would have: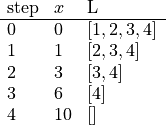 The insight: breaking down a problem into a series of simple repetitive steps greatly increases the power of our problem solving tools. A great deal of programming has to do with deciding how to formulate your problem as a series of repeated actions, each performed in a slightly changed context.
This is the idea of a loop.